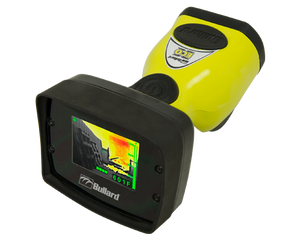 EcoX is the economical solution for budget constrained departments to put more Bullard Tough thermal imagers in the hands of firefighters.
Performance meets

AFFORDABILITY
Simple one button operation
240 x 180 resolution for clear, crisp, detailed images
Basic Super Red Hot colorization highlights high-heat scenes in yellow, orange, and red
Temperature measurement
Includes two batteries, desktop charger, and data cable assembly
SMALL

& Lightweight
2.75" display in an easy-to-hold design
Weighing only 1.9 lbs.
FIVE YEAR

Warranty
All X Factor Thermal Imagers come standard with a five-year, industry-leading, full service warranty on parts and labor. Upgrade to the CareFree warranty to get five years of coverage on batteries.