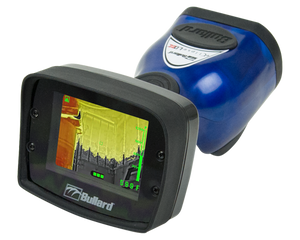 OUTSTANDING

Performance

The LDX uses infrared engine technology running at an ultra-fast 60 Hertz image update rate and incorporates proprietary image enhancement algorithms technology for the ultimate image performance in fire conditions. Housed in a compact, sleek design, the LDX is available in 320 x 240 resolution to accommodate your budget.
BRIGHTEST

LCD Display

The display on the LDX greatly increases brightness and improves contrast, enabling firefighters to see more clearly in thick smoke and direct sunlight.
ADVANCED

Features

Now standard on the LDX is Super Red Hot colorization, highlighting high-heat scenes in brilliant shades of yellow, orange, and red and temperature measurement in numeric and relative heat indicator formats. Bullard's exclusive Electronic Thermal Throttle which enables Fire Fighters to optimize scenes with the touch of a button, is optional.
BEST

Ergonomics

The LDX is distinguishable from other thermal imagers by its uniquely focused compact ergonomic design for the fire service and a cool, blue metallic swirl color. Other colors are also available. Additionally, the imager's power button design enables easy powering on and off with a gloved hand.
FIVE YEAR

Warranty

All X Factor Thermal Imagers come standard with a five-year, best in class, full service warranty on parts and labor.