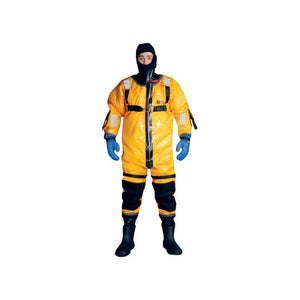 MSRP: $1114.21
Product Description
For the rescue professional, here is a suit that is unbeatable on the ice. The Mustang Ice Commander IC 9001 offers a warm, watertight suit that has superior mobility and advanced features.
High performance, welded urethane coated nylon exterior is waterproof, durable and easy to clean.
Detachable inner buoyancy liner constructed of closed-cell AirSoft" foam for maximum flotation and thermal insulation.
Liner can be unzipped and removed for in-the-field repairs and cleaning.
Full-length heavy duty zipper gives a water-tight seal and makes the Mustang easy to get in and out of.
Hood and face seal are watertight, giving superior protection from water and wind exposure.
Redesigned integral self-adjusting safety harness.
2.5mm neoprene on knees provides reinforcement and padding to knees and lower legs.
Seat and elbows are reinforced with yellow shell fabric giving added protection and durability.
Durable rubber soles provide traction on wet surfaces.
Sleeve pockets customized to accommodate ice awls (ice awls not included).
Pockets easily secured with Velcro .
Adjustable ankle strap fastens down and holds the suit"s foot in place.
5 fingered gloves attached to each sleeve with palms that provide abrasion resistance and better grip.
Compact storage case " storage volume has been reduced by about 17% compared to a conventional neoprene suit.
Waterproof: Yes
Breathable: No
Pockets: 2 " Sleeve
Features: Heavy duty full-length flexible zipper
Watertight hood
Redesigned integral self-adjusting safety harness
Durable rubber soles
Adjustable ankle straps
Compact storage
5 fingered abrasion resistant gloves
32 pound buoyancy rating