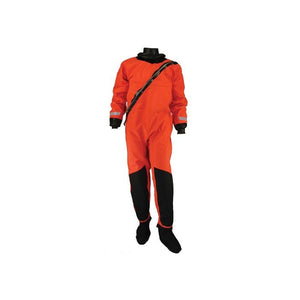 MSRP: $875
Product Description
Model Shown: This is the SPLASH-B-SRB-EC (SPLB-SRBEC), the SARR Surface Water Economy Drysuit that is both waterproof and breathable.
Color: Sea Rescue Orange (SRO) top/bottom, for high visibility.
Materials: Made from a three ply laminate having a micro denier nylon/polyester exterior fabric, a waterproof breathable barrier membrane and a tricot fabric inside layer.
Design: All OS SYSTEMS SARR Surface Water Drysuits are designed with Freedom Cut" features for complete and unrestricted freedom of movement. Sidearm Panel Gussets" extend from each elbow all the way down the arm to the waist. The Crotch gusset extends from one ankle through the crotch and all the way down to the opposite ankle for unparalleled fit, function and freedom of movement.
Suspenders: Each drysuit comes with installed suspenders.
Waist: Each drysuit has an AC (Adjustable Cord) Waist" so each user can individually adjust the waist for a personal fit.
Reinforcing: 500 denier Cordura" is used for the Butt Pad (on back) and the Knee Pads for strength and improved slip control.
Seams: Seams are double stitched for strength and fusion sealed on the inside for water tightness.
Entry: Front diagonal entry waterproof zipper for easy and fast donning and doffing and guaranteed watertightness.
Safety: Reflective Tape " (1) 1" SOLAS horizontal strip just above the Wrist Seals.
Seals: Longlife Latex" commercial grade rubber neck, wrist, and sock seals are thicker and more durable. These seals are also easily replaceable.
Footwear: OS recommends using non-attached boots or footwear for the best individual fit, the best lace up ankle support, and the best walking and traction sole. NOTE: Drysuit socks are designed to be worn inside some non-attached footwear option. Do not walk on the drysuit socks without protective footwear.
Testing: Each drysuit is individually tested under pressure and under water.
Warranty: Two year limited warranty.
NOTE " THESE ARE CUSTOM MADE SUITS AND ARE NOT RETURNABLE