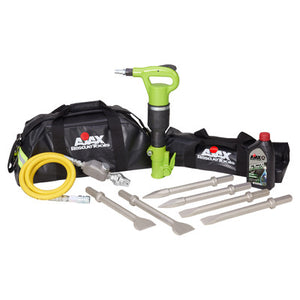 The Ajax Rescue Tools Heavy Duty Breaching Hammer Kit is designed to offer quick vertical or horizontal access through various grades of concrete and stone. This kit features an extremely powerful hard hitting hammer that can be controlled by one rescue technician.
This high performance kit also includes two each of a Moil Point chisel, Flat chisel, and a 3" Wide Flat chisel. In addition, each kit includes an 18 oz RipStop vinyl bag with shoulder strap and an accessory bag to hold the chisel bits. The Go Bag comes equipped with an internal locking mechanism that holds the hammer and bits securely. Ajax Rescue Tools has also included a 5' whip hose with pressure feed lubricator and a quart of biodegradable air tool oil to offer the rescue technician all the tools necessary to start a breaching operation.
This Heavy Duty Breaching Hammer offers the rescue technician the ability to get through tough materials in the fastest possible time, meaning quicker access when time counts.
Kit Includes:
Heavy Duty Breaching Hammer
5' Whip Hose with Pressure Feed Lubricator
15" O.A.L. Flat Chisel
15" O.A.L. Moil Point Chisel
15" O.A.L. 3" Wide Flat Chisel
32 oz. Biodegradable Air Tool Oil
Go Bag
Accessory Bag
Specifications
Net Weight - 24 lbs
Length - 18 1/2"
Bore - 1.4"
Stroke - 2.75"
Blows per Minute - 1560
Chuck Size - 7/8" x 3 1/4" sq.
Air Inlet - 1/2" NPT
Air Consumption - 40 Cfm