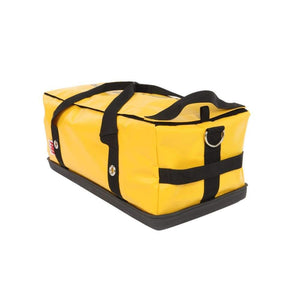 Designed to carry the tools & adapters needed to combat fire in high rise building.
The bag is constructed with R&B Fabrication's "Tuff Bottom" for superior durability.
The Vecro closure on top allows for quick access with your gloves on.
This bag will a pipe wrench, spanner wrench, flo-thru pressure gauge, quarter turn valve, wedges, adapters, door straps, rope or hose.
Measures 24" L x 12" W x 9" H with 2600 cu. in. of space.
Color: Yellow 22 oz vinyl,
Made in the USA.