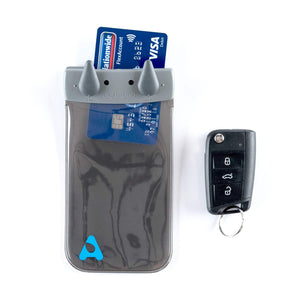 MSRP: $22.95
Product Description
Perfect case for keys and credit cards.
Completely waterproof protection from dirt, sand and dust.
Our multipurpose case range has 9 sizes to fit almost anything you need to take with you either on a day outing or a lengthy excursion.
Keymaster is supplied with an adjustable carrycord.
For the Beach, Boating, Climbing, Kayaking, Hiking, Paddling, Sailing, Travel, White Water Rafting" and much more.
Key Features
Protection against water, dust, corrosion, sand and mud
Like most of our cases, it"ll float if you drop it in the sea, providing there"s some air in the case
The seams are high-frequency welded to form a super-strong bond
The AQUACLIPseal protects and secures your kit from the elements