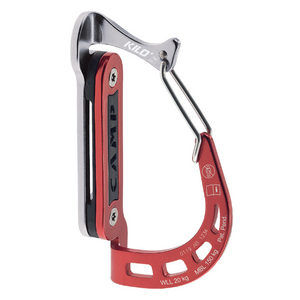 MSRP: $42.95
Product Description
Available for Pre-Order
The Kilo gear carabiner features a proprietary design that makes it particularly robust, stable and easy to use. Two-part aluminum alloy body connects with two stainless steel Torx TH20 screws making installation quick and simple. Gear parking position at the top. Plastic spacer insert for use on webbing up to 45 mm. Stainless steel wire gate is shaped for smooth action and maintains a low profile to prevent entanglement and accidental opening. Torx TH20 allen wrench included. The Kilo weighs in at only 1.9 oz.
Working load limit: 20 kg. Safety release breaking load: 150 kg.
Warning: the Kilo must never be used as a safety carabiner.