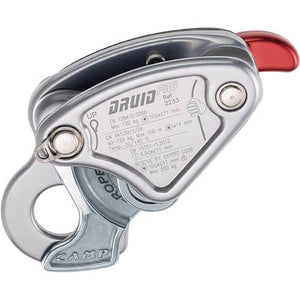 MSRP: $219.95
Product Description
A lightweight, compact auto-braking descender for rope access and rescue designed for semi-static ropes ranging from 10-11 mm. Designed for expert users; the lever does not have the anti-panic function. The body and lever are made of robust hot-forged aluminum alloy. Mechanical parts are made of precision-cast stainless steel. The internal mechanism and locking cam use a patented design for smooth action on the rope which prevents rapid wear-and-tear and absorbs energy from small shocks with a slight amount of rope slippage. The fluid action on the rope also allows the Druid to function well for rope ascent. The cam can be de-activated with a trigger to allow quick sliding of the rope in situations with no load or limited load. Steel ring for attaching a keeper cord.
Standards:
" EN 12841/C as a descender of the working line for workers up to 264 lbs. " can also be used for rope access rescue up to 440 lbs.
" EN 341/2A as an emergency evacuation device on a single line for workers up to 264 lbs. " 11 mm semi-static rope (Lithium 11 mm).
" EN 15151-1 for climbing structures using mountaineering techniques with dynamic ropes ranging from 9.9 to 11 mm.