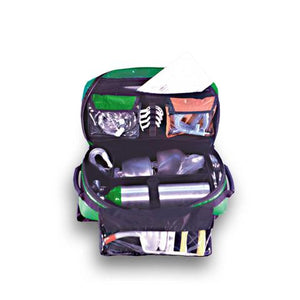 MSRP: $222
Product Description
This rugged, no holds barred kit is built to withstand the every day abuse of street EMS. It is built entirely of Conterra"s exclusive SI TEX fabric, that is totally fluid proof and over FIVE times stronger than the Cordura fabric used on other brands of airway kits. The fully padded Airway-Pro opens with a single huge #10 coil YKK zipper to reveal a main compartment that is divided into three parts for organizing your O-2 equipment. The top flap is lined with Veltex fabric and can accept any of our
MOS modular organizers
. The kit itself comes with two detachable vinyl window pockets for organizing tubing and delivery devices, and an elastic strap for your oral or nasal airways ( you can add as many additional straps as you need). The top flap has a full length zippered compartment that can hold combi-tubes or several C-collars. The Airway-Pro also sports three fluid proof handles, and fold away back pack straps. Oh, by the way, the Airway-Pro is lifetime guaranteed (excluding normal wear and tear or abuse).
Medical supplies not included.
3.9 lbs. Dimensions: 23" x 11" x 10"