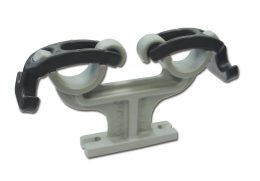 For use with 1" to 1.3" diameter tools.
Enjoy more customization when planning your layout. New slotted base make for an easier installation process, especially when mounting to standard 1" x 1" grid tool boards.
Slotted mounts allow you to position equipment diagonally on the tool board for maximum use of available space"something that is difficult or impossible to do with track-style mounting options.
Flexible draw latch accommodates various diameter tools and equipment and holds them firmly in place. Latches are UV-stabilized for a longer life.
Powder-coated, cast aluminum brackets won"t crack, break, or pull off the wall like some vinyl or plastic brands.
Easy to open and close.