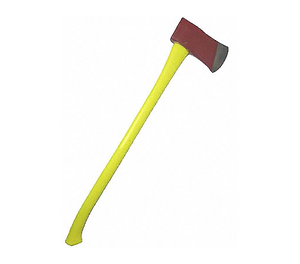 35" Length. The ultimate tool for forcible entry, perfectly balanced to lay correctly in the hands for that short strike stroke on an iron or unlimited padlock breaker.
Large, oversized head makes the strike zone more accurate and easy to hit. Cutting edge annealed to keep its edge longer.
New Type Handle: (Fiberglass) Super strong handle with a rigid fiberglass core surrounded by durable shock absorbing foam. A combination that eliminates the need for hand grips and prevents splintering and breaking on overstrike. Safety color yellow is luminous in smoke and/or poor light situations. A sanded knurl is embossed in the lower part of the handle to eliminate slipping.