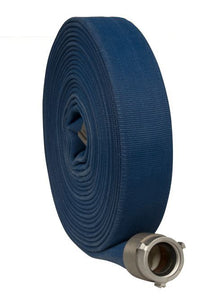 Ultra light, double jacket construction, utilizing high strength ring spun and filament polyester fibers to deliver a highly abrasion resistant lightweight attack hose. A dependable, polyurethane lining eliminates ozone deterioration while maintaining lightweight integrity of the hose.

The outer jacket is mildew resistant and available with iconic "Key-Lok" polyurethane based polymer impregnation for additional abrasion and moisture resistance.

A proprietary reverse twill weave construction reduces friction loss, while ensuring the hose is lighter and easier to maneuver.

Key-Lite liner material meets NSF (National Sanitation Foundation) Standard 61 for potable water. This reliable, double jacket fire hose is tested to 600 and 800 psi and meets MIL‑H‑24606 latest edition for abrasion resistance.

Features a 5‑year warranty against liner delamination.
High strength, highly abrasion resistant filament polyester over a dependable polyurethane lining
Ultra lightweight double jacket attack line
Combines minimum weight with maximum flexibility and abrasion resistance
Mildew, UV, chemical and ozone resistant
Lining meets NSF Standard 61 for potable water
5-year liner delamination warranty