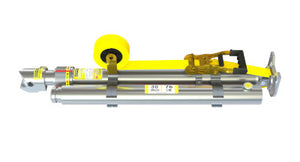 The "ALL IN ONE" Vehicle Stabilizer!
TwistLock Quick Release 40 in / 101.6 cm strut with attached 30 in / 76 cm extension. Integrated ABS Ratchet Strap System, 6" Hinged Base Plate with 2 stake holes and Spike Base for extra strong hold. All in ONE system!
Stronger, Faster, Safer! No Assembly Required!
When you to stabilize a vehicle at an accident scene as quickly as possible, this is your solution. There is nothing faster or stronger! With its innovated TwistLock Collar all you need to do is TWIST, EXTEND, LOCK. The Supporter X2 can easily stabilize 10,000 lbs / 4,535 kg with a 2:1 safety factor at ANY height. NO LOAD CHART NEEDED.
Length
Retracted 40 in / 101.6 cm

Extended 65 in / 166.1 cm

Extended with Extension 95.4 in / 242.3 cm
Total Weight

35 lbs /1 5.9kg
Attached Extension

30 in / 76cm
Max Axial Load (2:1 safety factor)

10,000 lbs / 4,535 kg