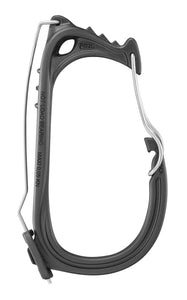 MSRP: $14.95
Product Description
Universal holder for ice screws and tools, suitable for all types of harnesses
Universal, practical holder for ice screws and tools when mountaineering, ice climbing or multi-pitch climbing. It allows equipment to be organized, and ice screws to be stored and sorted quickly. An ice axe or hammer can also be attached and removed easily. Compatible with all types of harnesses, you can position as many as you like, wherever you choose, depending on the activity.
Detailed description
Position as many as you like, on any point, and on any type of harness. This allows individualized organization of equipment.
Large capacity for transport:
" carry up to six ice screws
" store an ice axe and retrieve it with a single hand
" store and secure a hammer
Allows equipment to be organized and sorted on the harnessThis product is not personal protective equipment. It can only hold the weight of equipment (max 5 kg).