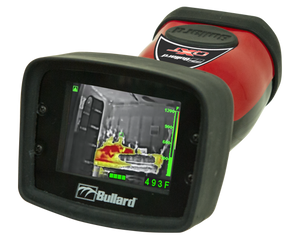 INNOVATIONS
for the Fire Service

The Bullard QXT is designed not only for long-lasting service on the front line but also low total cost of ownership in the back office. It is purpose-built for today"s fire service including the industry"s:
Longest battery run time
Best image quality
Most desired form factor
First wireless charging systems
Proven durability
Leading warranty
Unmatched

PERFORMANCE
The image clarity you have come to expect from the X Factor Family is further refined in the QXT. Equipped with an ultra-high performance LCD display that greatly increases brightness and contrast, the QXT lets firefighters see more clearly in smoke and direct sunlight. Bullard"s QXT can exceed eight hours of continuous run time for the ultimate performance in fire conditions.
ADVANCED

Features
The Bullard QXT is loaded with advanced features including Super Red Hot colorization, intuitively highlighting high-heat scenes in brilliant shades of yellow, orange, and red, and temperature measurement in numeric and relative heat indicator formats. Optional features include Bullard"s exclusive Electronic Thermal Throttle , which enables firefighters to optimize scenes with the touch of a button, 2X/4X Digital Zoom that allows firefighters to get closer to the action, and Bullard"s SceneCatcher Digital Video Recorder that allows firefighters to capture five hours of video and store hundreds of still images.
SIMPLE

Operation
Like the popular LDX, Bullard"s QXT is distinguishable from other thermal imagers by its uniquely focused compact ergonomics designed specifically for the fire service. The imager"s power button design enables easy powering on and off with a gloved hand. Additionally, multiple colors are available for departmental identification. The wireless charging systems are compact, simple, and allow for easy continuous use.
Bullard

TOUGH
The QXT is built Bullard Tough for the way firefighters work. The imager comes standard with a five-year, industry-leading warranty not only on the QXT but also on the battery.