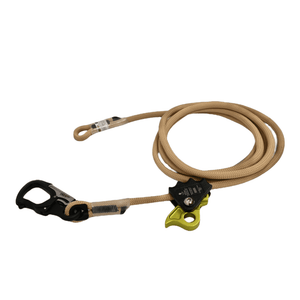 MSRP: $109.99
Product Description
The X-Flight Lanyard is a purpose built work positioning system designed specifically for tree care, tower and other work at height applications.
Constructed with 11mm Tritech (one of the most durable static ropes available).
This 11 mm rope features a unique Technora sheath, Dyneema inner jacket and nylon core. By combining the abrasion-resistant sheath over a high-strength inner jacket and pliable core, we have created a flipline that is strong and durable, yet still supple enough to move and position easily.
X-Flight Adjuster has an internal spring, heavy duty cam, and a large thumb rest for easy cam manipulation.
Hot forged body features a textured grip for better handling.