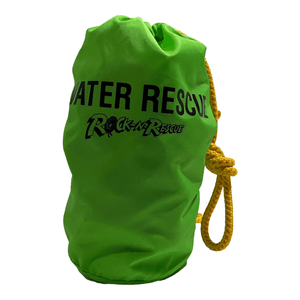 MSRP: $102.75
Product Description
Be Rescue Ready with the Wild Water Snag Plate!
Rock-N-Rescue NFPA Trident Series Throw Bags are used anywhere the potential for a water-related emergency exists, such as swimming pools, white water rafting, boating or any related sport. Throw bags are a superior alternative to heaving lines and ring buoys as bags can be thrown further and with greater accuracy. Our bags do the job better, quicker and more efficiently. Made in USA.
Current throw bag technology does not allow for fast and efficient access to another throw rope in the water when conducting emergency river rescue. Swiftwater rescue requires immediate response and reliable equipment, training, and technique. Efficiency is a necessity and having the right equipment can make the difference when every second counts.
The Wild Water Snag Plate allows the user to snag and pull in a rope with a standard throw bag. Once installed in the bag, it will always be ready when needed. The Wild Water Snag Plate is made of a stronger composite material. Install the Snag Plate in your throw bag by threading it on the rope and stowing it in the bottom of the bag before loading the loose rope in the bag. To use the Snag Plate, simply empty the bag of rope, expose the plate, add weight to the bag using rocks or other available objects and proceed with your rescue. Toss it out over the rope you want to retrieve and haul it in. There is no longer a need to carry costly additional equipment, and the Snag Plate can be added to any standard throw bag. Once installed in the bottom of the throw bag, it does not interfere with normal throw bag use.