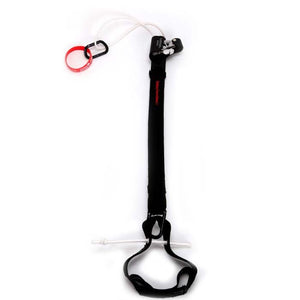 MSRP: $169.95
Product Description
Get the best of the original SAKAandthe best of the SAKA Mini in the SAKA-mini-MAX! This floating knee ascender is the most versatile and efficient available. Climb with your SAKA mini-MAX v2 as a mini or as the MAX, and take your tree-climbing to the next level!
New to V2, the tether no longer velcros around the bungee.
The SAKA mini-MAX v2 uses the same great ascender as the original SAKA, with progressive tooth pattern and a rope friendly spring. Will work on common Arborist Climbing Rope sizes, from 9mm to 13mm.
Super-stretch bungee with Dyneema cover & solid rubber core improves performance and wear-resistance
Non-load-bearing doubled bungee stiff tether for quick rebound and easy bungee replacement on the MAX
The load-bearing tether is adjustable to meet any reasonable stride or climbing conditions
Elastic-sock" on the tether stows away excess bungee cord
The mini-MAX is easily stored; the mini is so compact it can be carried in a pocket!
Weighs only 10oz!
Additional Features
Part of a rapid ascending system
2' of super stretch bungee, solid rubber core and Dyneema cover for strength and wear resistance
2-5 pound pull. (3 pounds at 18 inches of pull)
2' of 5/8" webbing adjustable for any reasonable stride or size of climber
Simple to adjust
An elastic-sock" on the tether stows away excess bungee
Load bearing buckle designed and built just for the SAKA mini
Compact for easy storage when not in use
Uses the original SAKA ascender with progressive tooth pattern and rope friendly spring.
Comes with two small, 4kN rated carabiners andone 22 kN carabiner
Works for climbers of all sizes, no need to choose between lengthor foot attachment
Free Bungee replacement is available (if somehow yours is broken or destroyed)