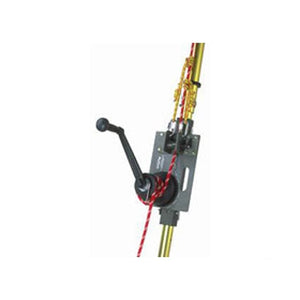 MSRP: $3259.99
Product Description
The SkyHook Tripod Winch is a portable version of the high-performance kernmantle rope-based winches found on the USCG Jayhawks and other rescue helicopters.
The two-speed winch has a detachable handle for compact storage. The base plate connects to either the SKED-EVAC or Hercules tripod for confined space applications. Tie-down holes allow the winch to be used in a variety of field rigging applications. Dual anchor points for rope grabs not only provide anchors for belay systems, but can be used to pull a two rope system. Tailing grip can be adjusted to accept most diameters of rescue kernmantle ropes.
SkyHook Tripod Winch Systems adhere to the legendary standard of creative machined excellence of Russ Anderson.
Weight25 lbs.
Made in the U.S.A.