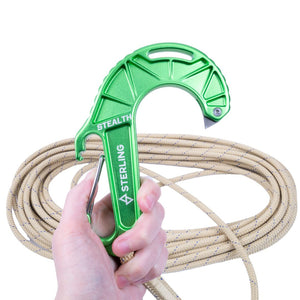 MSRP: $254.99
Product Description
Developed for Rock-N-Rescue by Sterling Rope,Safe Tech Escape Ropeis a more cost effective solution for those who want the high heat resistance of an all Technora escape rope without the higher cost. Safe Tech combines the highheat resistance of Technora into it"s sheath with the strength and better elongation properties of a nylon core intoa single,more cost effective package. Although we hope that you never have to actually use this item in an emergency, rest assured that if the need to use it arises in an emergency, this product is backed by years of research and development, testing and actual field work. The rope can be purchased separately or with one of three different anchor hooks sewn on. The ropes with sewn anchor hooks each come with 50 ft. of rope.Meets NFPA1983 for Escape Rope.Made in the U.S.A.
STEALTH HOOK
The next generation escape hook from Sterling, the Stealth hook has more features, in an even lighter package. Continuing with the popularity of our first-of-its-kind gated hitching slot for quick and secure remote anchoring, we have re-engineered this fire escape hook to be 14% lighter than its predecessor, with new features:
Forged from aircraft grade 7075 aluminum, the truss design reduces weight and preserves strength, making this the lightest NFPA escape hook weighing 170g/ 6oz.
Tool-grade stainless steel tip allows for better holding in a variety of anchoring surfaces and can be easily changed out if it becomes blunted from training. Each tip offers two points that can be used.
Rounded radius at the back of the hitching slot for easier use in an improvised mechanical advantage system.
Heel ridges and milled grips help keep the hook in your hand and in place at the anchor.
Specs:
Weight 170g/ 6 oz.
Certification: UL Certified to NFPA 2500 (1983)
MBS: 13.5 kN