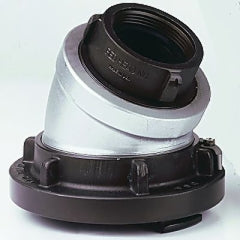 Available Sizes:
4" thru 6" Storz x 6" thread
Configurations and features:
" All Storz heads are forged 6061-T6 aluminum to Spec. SAE-AMS-QQ-A-367 and ASTM B247. Also complies with DIN standard.
" Stainless steel lock assembly on all 4", 5" or 6" Storz.
" 30 degree elbow made from tough, lightweight 356-T6.
" Cast elbow has powder coated silver finish.
" All Storz heads and threaded connections are hardcoat anodized to MIL-A-8625 Type III, Class 1.
NO PLAIN ANODIZED, PAINT OR POWDER COATED FINISHES ON CONNECTIONS!!! NO CAST HEADS!!