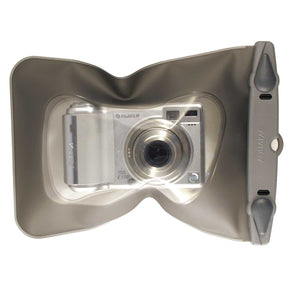 MSRP: $34.95
Product Description
For small compact cameras with some zoom use.
Use your camera safely at the beach, on the boat, or in the pool.
Even underwater!
What"s so special about this case?
It allows you to get photos when it"s really wet. And yes, even underwater!
It"s sand-proof as well as waterproof so you can take your camera safely to the beach (Sand destroys even more cameras than water)
It comes supplied with 3 desiccant sachets to absorb condensation in humid climates.
---
What else do I need to know?
Your camera should float in this case- but make sure you test yours in a basin before you launch it into the sea!
There"s enough room for some zoom use, but not much.
You might want to consider the Mini with Hard Lens which is a premium alternative.